MSI FZC developed a range a well testing multiphase separators with several pressure ratings available, 250 PSI, 900 PSI, 1440 PSI and 2160 PSI. These multiphase separator pressure vessels are ASME "U" stamped and NACE MR-0175 compliant. There are equipped with Daniel orifice valves, PSV and all usual control valves.
The separators can be skid mounted for onshore and offshore operations (DNV certified skids) and can also be trailer mounted when integrated in complete well testing trailer systems.
MSI FZC makes complete MPFM systems integrated with piping and manifolds upstream and downstream. The MPFM selected to be integrated into the system can come from various suppliers (Haimo, Agar, Medeng, ABB, Roxar-Emerson,…) depending on clients'requirements.
The systems can be skid mounted or trailer mounted. Trailers are custom built and are provided with necessary documentation for registration in the country where they are intended to be registered.
The skid mounted units can be made for onshore and offshore operations.
The units can be made for desert and arctic environment and can be CE marked and Gost certified on request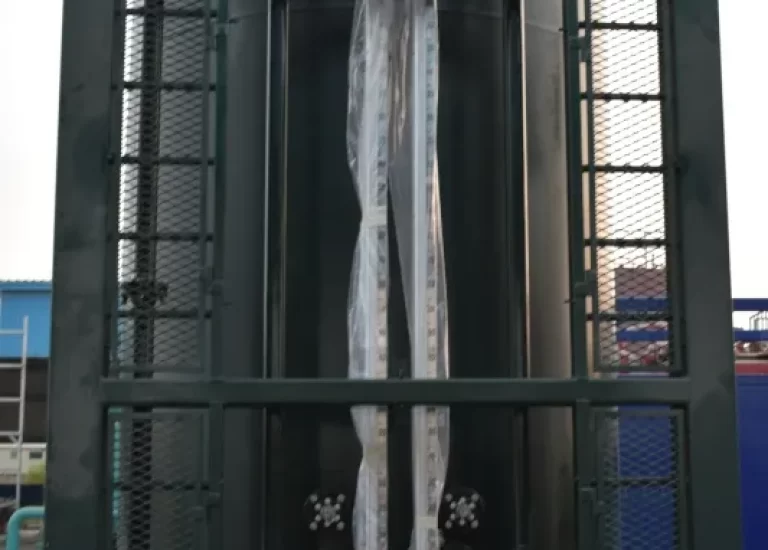 MSI FZC manufactures well testing dual compartment surge tanks of various sizes and pressure ratings to be mounted either on skids or on fully integrated well testing trailers.
The tanks are ASME "U" certified and equipped with hi-lo level sensors/alarms, PSV, liquid level gauges. When mounted on skids the skids can be DNV certified.
MSI FZC knock out drums are designed to remove droplets of liquids carried by gas streams to go to flare. The separation is made by gravity by slowing down the stream of gas coming from inlet line. This is achieved by making the stream enter a large chamber (vessel). This and other geometry elements inside the vessel allow the droplets to fall at the bottom of the vessel.
PSV and Hi/Lo sensors and liquid level gauge are installed on the vessel.
The vessel is NACE MR-0175 compliant and ASME "U" stamped and certified. Pressure rating and volume depends and clients' requirements.
MSI FZC manufactures flare stacks according to the needs of the clients. The flare stacks can be designed for offshore and onshore operations. The capacity of the flare stack and the size is calculated in accordance with the requirements of the clients.
The onshore stacks can be skid mounted with a pad, cables and concrete anchor blocks or trailer mounted with hydraulic deployment system and stabilizing legs.
The ignition system uses piezo electric spark generator.
The trailer mounted flare stacks are built on custom built trailers coming with all registration documents for the region they are intended to be registered in. They can be CE marked and Gost certified upon request .
Tri-Heads Green burners are also available.
MSI FZC manufactures fluid transfer pumps using a variety of pump types and materials to comply with the application. As a result depending on the types of fluids to be pumped the transfer pumps can be made of carbon steel with an internal FRP coating, or they can be entirely manufactured in Stainless Steel or they can be made on Teflon.
In addition the pumps can be centrifugal type, single stage or multistage, membrane type, progressive cavity type, reciprocating type….
The pumps can be driven mechanically by diesel engines, electric motors, hydraulic motors,pneumatic motors,…
The diesel engines can be water cooled or air cooled with manual or pneumatic PTO clutches.
The electric motors can be AC or DC, if need be they can be equipped with variable speed control.
MSI FZC manufactured Flushing/Test pump units used to flush lines/casing and to perform pressure tests of the line and casing. These pumps are typically ranging from 100-180hp and are a reciprocating type. They usually pump water and use that same water as a lubricant too for the plungers.
They can be equipped with electronic and paper chart recorders.
These units are very compact and can be built on skids or on small trailers that can be pulled by standard pick-up trucks.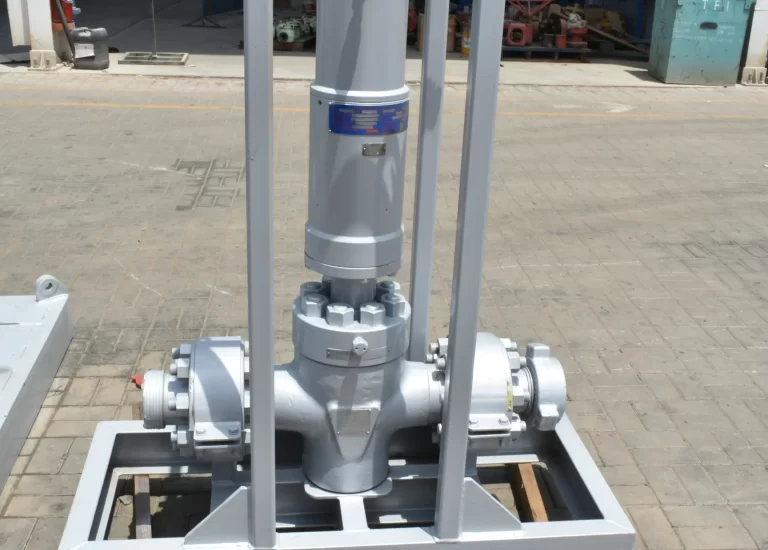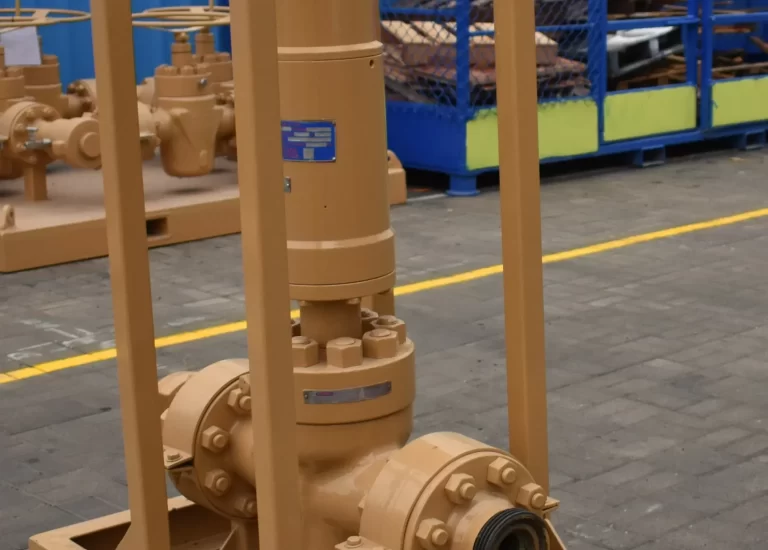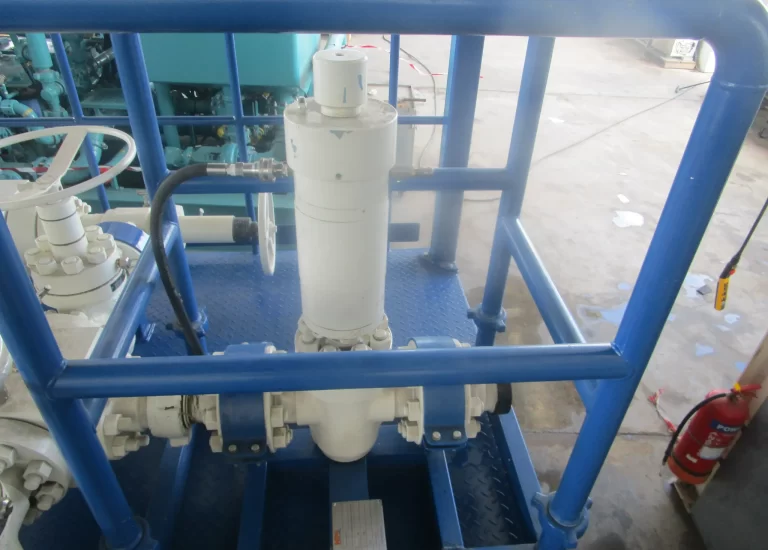 MSI FZC makes complete Surface Safety Valves packages. The valves are API 6A gate valves and their design can be as per clients'requirement (FC, FLS,…) and can be of any API 6A sizes and pressure rating, from 3000 PSI up to 20'000 PSI. All valves trims and temperature ratings can be of any API 6A classes, up to PSL-3G and PR-1 or PR-2.
The valves are equipped with hydraulic "fail safe", spring loaded actuators. The actuator is equipped with a "Quick Exhaust" mechanism to ensure fast response of the actuator. Hydraulic control pressure of the actuators can range from 2500 PSI to 3200 PSI.
The valves are mounted on skids with crashframes and lifting points and can be equipped with inlet and outlet crossovers with any type of connections, hammer unions, API clamp hubs, Grayloc,…
MSI FZC developed a range of 5K, 10K and 15K PSI vertical dual pot sand filters. The pressure vessels are ASME "U2" stamped. They are installed on a DNV frame and equipped with inlet and outlet manifolds with by-pass system.
The manifold system allows to use one filter at the time or both together.
The vessels are equipped internally with shields/screens to disrupt the incoming stream and create a velocity drop allowing the heaviest particles to fall by gravity. The second stage is a SS316 sintered cartridge type filter element that retains the finest particles/contaminant.
The filter is washable thanks to some nozzles installed on the vessel connected to check valves and HP water lines.
A differential pressure measurement system between the inlet and the outlet allows to monitor the pressure drop resulting in the progressive clogging of the filter and is connected to an alarm system to signal the need to the operator to divert the incoming flow to the other vessel to prevent collapse of the filter element and allow for its cleaning/replacement without stopping the operations.
Each vessel is connected to a drain line to evacuate the contaminants stored at the bottom of the vessel. Extra HP water nozzles are installed in the drain area to ensure proper flushing.
The system is equipped with a deployable gantry type crane to facilitate the removal and replacement of the filter element inside the vessels.
MSI FZC manufactures ESD panels to control Well Testing Surface Safety Valves.
The panels can be made to control one or more SSV. They are SS316 enclosures containing also the hydraulic oil tank for the SSV actuator(s) control. The system is equipped with adjustable Hi-Lo pressure pilots to make the reacting of the ESD system adapted to the operations.
The panel can be equipped with Haskel and Maximator pneumatic hydraulic pumps for the reset of the actuators and also with a manual backup pump lever operated.
The system usually comes with three (3) remote ESD stations and interconnecting lines.
Number of stations and length of lines is as per clients'requirements.
MSI FZC manufactures well testing choke manifold of various sizes, configurations and pressure ratings up to 20'000 PSI WP. All manifolds are as per clients' requirements and tested as per API 6A.
The manifolds can be mounted on onshore skids or DNV offshore skids.
Complete range of choke beans are also available.
MSI FZC manufactures Data Headers as per clients'requirements. The data headers can be of any length, with any connections, any pressure ratings and any number and types of ports (ACLV, NPT,..). In addition MSI FZC also can equip the data headers ports with isolation needle valves, thermowells, pressure gauges, check valves,…
MSI FZC manufactures all piping packages for well testing and EPF operations. Piping packaged can be provided loose or stored in DNV piping baskets or racking systems.
The piping packages are as per clients' requirements. They well testing piping packaged are typically of welded constructions. The welds are inspected by X-ray and Post Welded Heat Treatment are performed on the welded joints. Full reports from certified third parties are provided to the clients as part of the standard databook provided by MSI FZC.
MSI FZC manufactures piping packages for any pressure rating between 200PSI to 20'000 PSI. Connections can be flanges, hammer unions, API Clamp Hubs, Grayloc,…
Materials selected are in compliance with NACE MR-0175 and depending on the location where the equipment will be used special grades of steel can be used especially for Arctic operations.
The piping packages include straight joint, 90deg. Elbows, 45deg. Elbows, Tees, Crossovers,…